Welcome to Celtic Nature Studio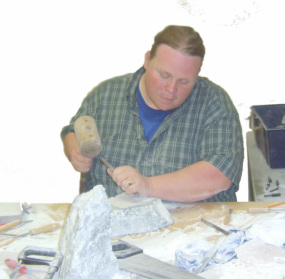 Thank you for visiting my website. Here you'll find general information about carvings, my motivations to become a stone sculptor and a gallery of my one-of-a-kind sculptures.

My work as a stone carver ranges from representational carvings to completely abstract sculpture. You'll find relief carvings as well as pieces done in-the-round. Most of my stone carvings tend to have a Celtic or Wilderness theme. Although I occasionally work on recreating 18th century artifacts.

The Celtic pieces are often inspired by the historic stone carvings found in the North East Atlantic Region. However, I am also inspired by the myths and legands of the Gaels, Gall-Ghaeil, Picts, and Brythonic tribes.



---
I have recently added a facebook page where I will post updates on shows
that I will be attending as well as photos of new works. Please like my page!